The Prologue to the "Arts and Human Rights" festival marks the International Human Rights Day, while the Festival itself takes place in June 2023.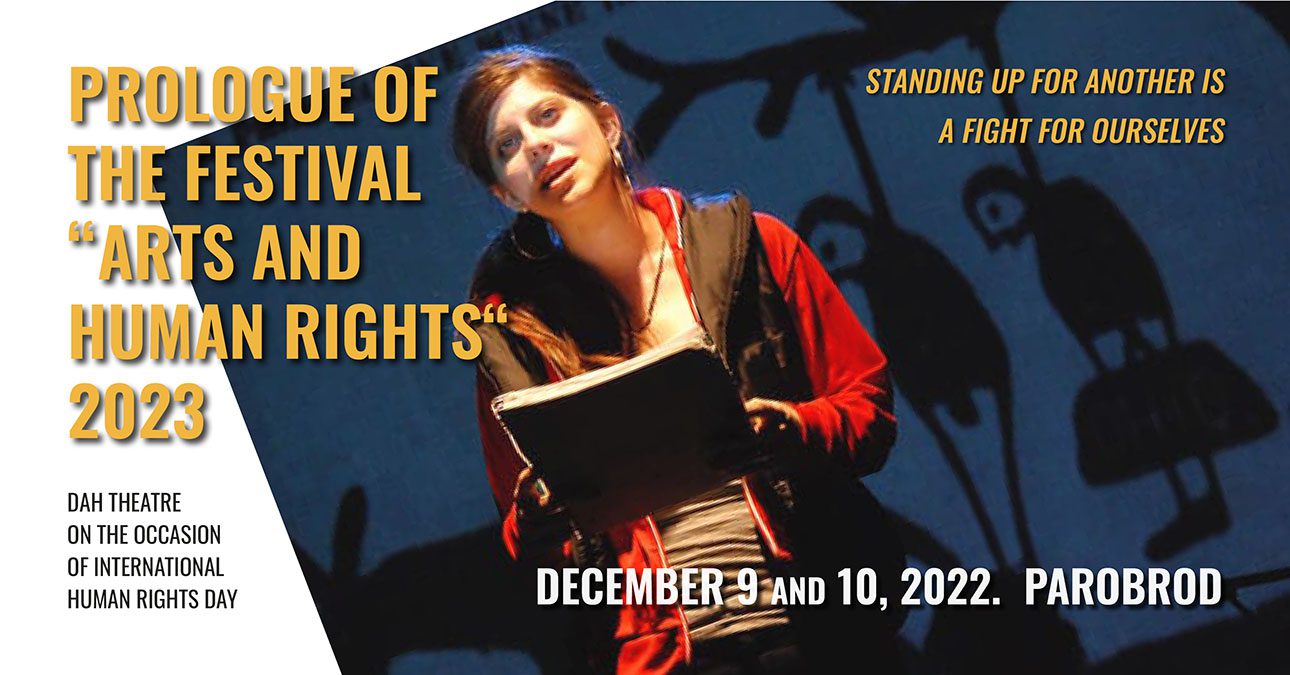 During the Prologue, we will contemplate one of the world's burning questions: What can art and activism do regarding human rights violations today?
We will talk with guest artists and activists from Iran, Russia, Israel and America, with whom we share the impression that the situation on the global level is frightening and that we need to react urgently. While remaining within the field of art, we will not only contemplate and dialogue, but offer all our resources and strength to actively participate in the resistance to injustice, war, and the all-encompassing passivity of the human spirit that plagues our world today. We want to offer a different narrative, to explore what we can still do to better the reality, as well as what local and global artists have been doing successfully for years. We want to illuminate effective artistic and activist strategies that provide hope.
This is a call for urgent creative action, mutual support, empowerment, and joint contemplation of new approaches to active resistance against human rights violations at the global level.
STANDING UP FOR ANOTHER IS A FIGHT FOR OURSELVES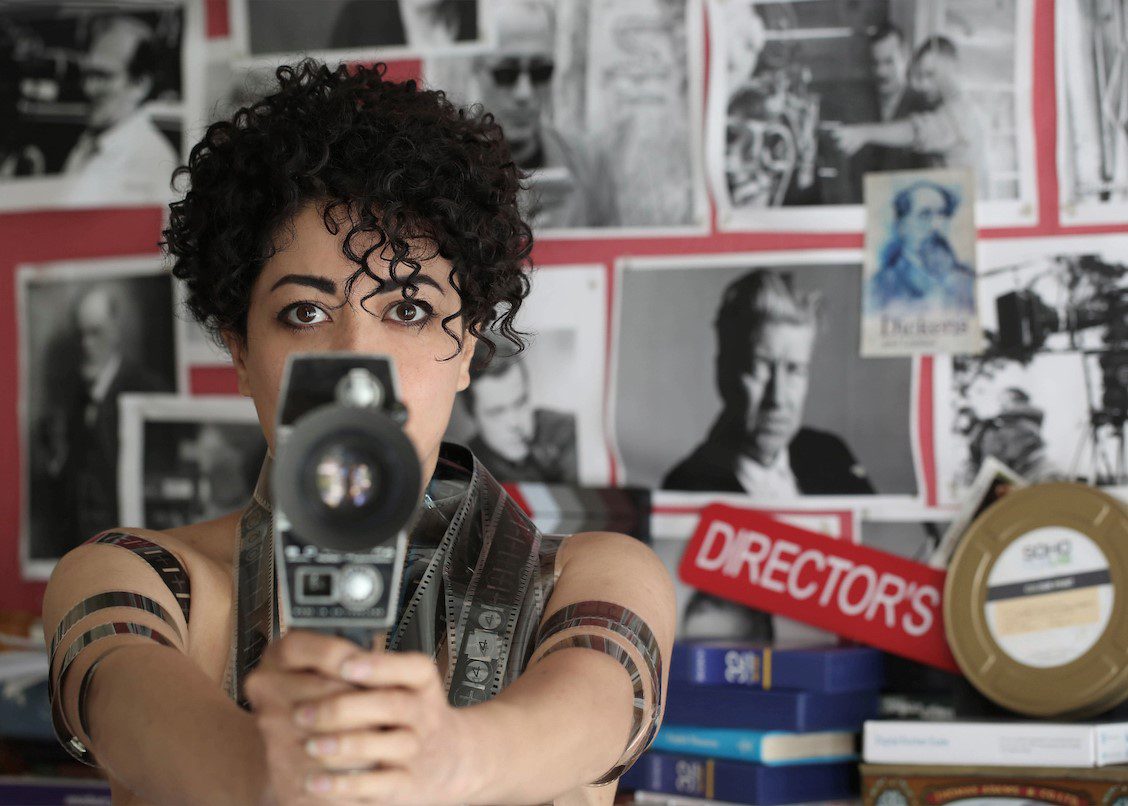 UK PAROBROD
16.00–20.00
INSTALLATION "Cardiophone" – Moran Duvshani, Israel
Private listening to the melody of your heart. This participatory work combines a medical device and a music box and welcomes one visitor at a time. You are invited to a three-stage journey that begins with an EKG test and ends with listening to a unique melody generated by your own heart.
Moran Duvshani (Israel) is a multi-disciplinary artist who creates visual theatre and performances. She was born in Kibbutz Barkai, Israel, in 1984. She completed her studies at the School of Visual Theatre in Jerusalem in 2013 and was awarded the Mayor's Prize for outstanding work. In 2011, she was awarded the Excellence Award from the Jerusalem Foundation. Today, Moran is an independent artist, performer, and artistic consultant. She facilitates workshops based on the methodology that she has developed and teaches classic and shadow puppetry to children in special education programs. Her work has been performed internationally at festivals in Cyprus, Estonia, Austria, Germany, Latvia, and Iceland. In Israel, Moran's work has appeared in several museums, theatres and galleries including the Museum of Islamic Art, Tmuna Theatre, the Train Theatre, Miklat 209, HaHanut Theatre, the Performance Art Arena, Celims Centre for choreography and dance, and the Gaza 13 Gallery.
20.00
FILM "Understanding Women's Activism in Iran Through Film"
CONVERSATION with author Mahshad Afshar, Iran/UK moderated by Dijana Milošević, DAH Theatre, Serbia.
Mahshad Afshtar (Iran) is an award winning self-shooting director and producer, living in London. Coming from a multidisciplinary background, Afshar graduated from the London Film School in Filmmaking/Directing with an MA in 2014 and continued her research interests with a Ph.D. in Film Studies at Kingston University (2021), London. Afshar co-directed her debut feature docudrama Cul-de-sac (2010), which earned a large reception by the International press and media. It was screened at twenty-three international film festivals, as well as at Amnesty International and many other human rights and women's rights organizations. Her most recent documentary and film essay project, Women on Both Sides of the Camera (2020) has been officially selected by ReadingFilmFEST 2021 in Pennsylvania and at Imagine This Women's International Film Festival in New York, and won the Best Film award on Women and Women's Issues at Museum Talkies International Film Festival 2021 in India.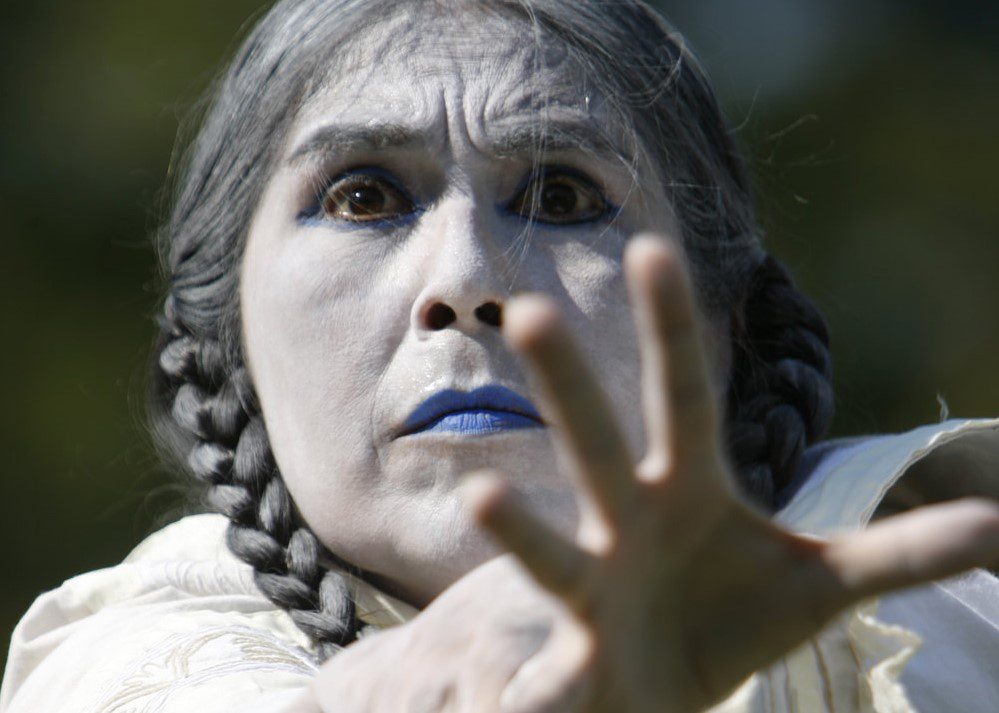 UK PAROBROD

16.00–20.00
INSTALLATION "Cardiophone" – Moran Duvshani, Israel
19.00
FILM "Acting Together on the World Stage" – documentary film by Cindy Cohen and Allison Lund.
This 55-minute documentary highlights stories of nine exemplary peacebuilding performance practitioners and their reflections on key questions and dilemmas from the field. The documentary has played in hundreds of venues around the world. It was the winner of SPIRIT OF PLACE AWARD for excellence in social realism and excellence in the arts. This screening is a collaboration among DAH Theatre, the Program in Peacebuilding and the Arts at Brandeis University in the United States, and IMPACT: the Imagining Together Platform for Arts, Culture, and Conflict Transformation.
PRESENTATION of multi-media initiative "Acting Together on the World Stage: Performance and the Creative Transformation of Conflict" by Cynthia Cohen, Brandeis University, USA [online] and Dijana Milošević, DAH Theater, Serbia
Cynthia E.Cohen (USA), co-created the "Acting Together on the World Stage" documentary, and co-edited the anthologies and toolkit PDFs that accompanied this project. She writes, teaches and conducts research into the aesthetic and ethical dimensions of peacebuilding. She co-directs Brandeis University's Program in Peacebuilding and the Arts.
CONVERSATION "What can art and activism do regarding human rights violations today?"
With Mahshad Afshar from Iran, Moran Duvshani from Israel and Katja Khazina from Russia – moderated by Ivana Milenović Popović, DAH Theater, Serbia.
Katja Khazina (Russia) is a feminist and activist with the background in philosophy and fimmaking. She left Russia in the first week of the current war in Ukraine. She is a part of Women in Black group from July 2022. As part of her practice Katja is exploring the politics of memory, violence, inequality and solidarity.
DAH Theatre thanks: UK Parobrod, Žene u crnom/Women in Black, Dijana Mitrović

Supported by: Ministry of Culture of Republic of Serbia, Reconstruction Women Fund, Embassy of Israel in Serbia