ARTS AND HUMAN RIGHTS FESTIVAL
This 3rd edition of the Festival is inspired by Martin Niemoller's poem "First they came" hoping to connect artists and human rights activists with each other, with the wider community as well as to encourage and empower citizens to react against injustice, to take an active role inciting positive change in their communities. Topic is Standing up for another is a fight for ourselves, emphasising empathy and compassion, bringing humanity back to the forefront before personal (selfish) needs, glorified in our times of radical individuality.
The program includes theatre productions, workshops, installations, concerts, talks, films, as well as creation of an original mural.

Artists and activists are coming from Argentina, Armenia, Australia, Brazil, Denmark, Germany, Holland, Kosovo, Norway, Italy, Serbia, and the USA.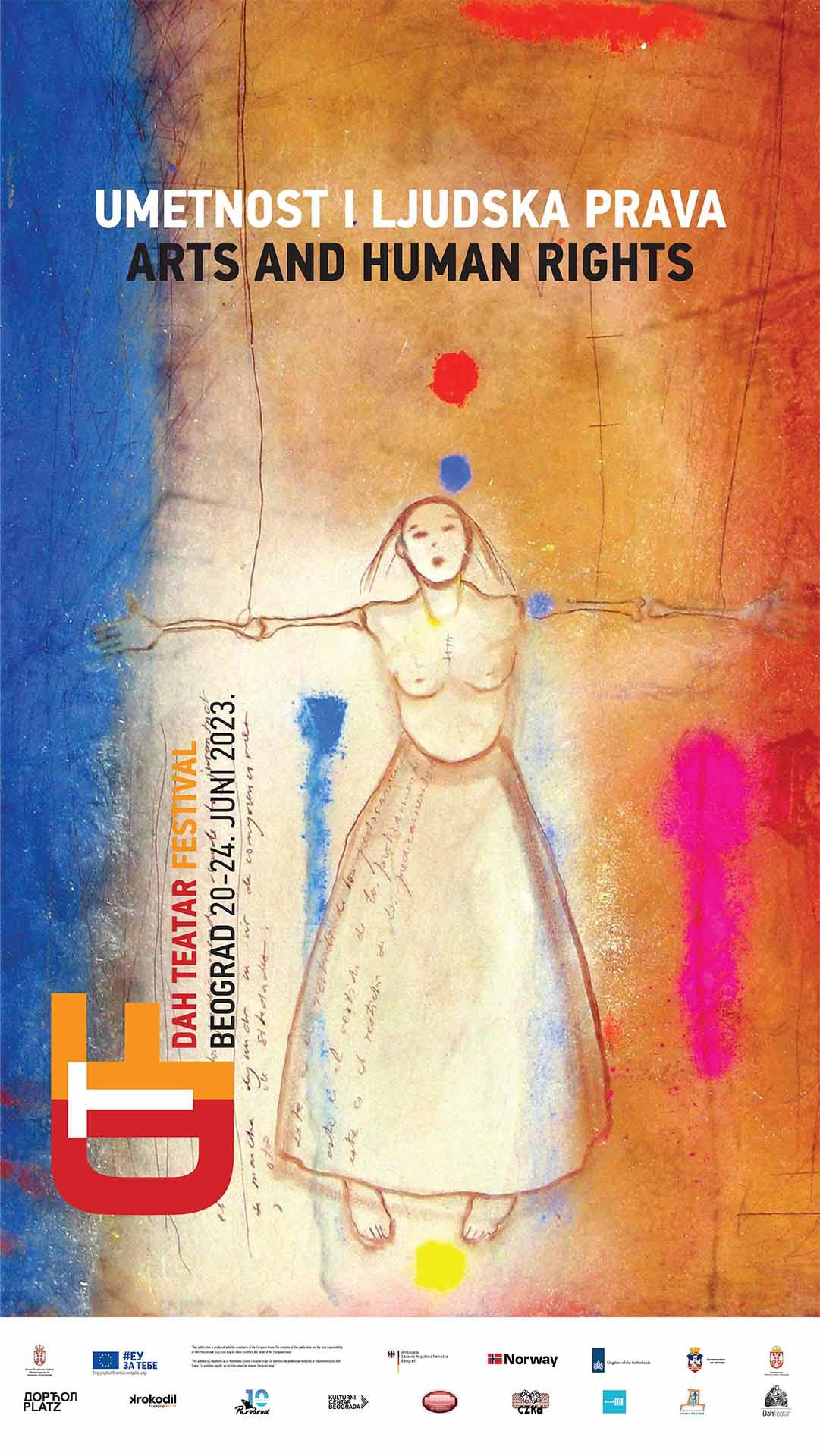 Antagon Theater from Germany presents Barbara Luz Carvalho [Brazil] in the play Corpus Mundi, which deals with the process of decolonizing one's own body and mind, as well as Camará, where the notion of a new approach to "masculinity" is explored. Reflektor Theater [Serbia] plays "Girls", a documentary play about female upbringing in Serbia today and DAH Theatre Dancing Trees, about the importance of preserving trees.
Afro-diasporic Body – a workshop that will deal with the colonisation of the body, especially in dance, by Barbara Lucy Carvalho [Brazil/Germany]. "Working on a solo performance" – from autobiographical material to a universal story , led by Karolina Spaić [Serbia/Netherlands]; Intersections: Theatre and Human Rights" – led by Jadranka Anđelić [Serbia].
INSTALLATIONS, PERFORMANCE ART
The Curtain Theory – performance by Ivana Milenović Popović about empathy and missing babies in Serbia; Solvitur Ambulando, performance- walk through the forest by Greenland Free Theater [Norway], with a focus on climate justice; Performance "I love you" by Snežana Golubović [Serbia/Germany] and performance and interactive installation 15 Minutes in Aquarium by Alisa Oravec [Serbia] on the topic of "fast fashion" and ocean pollution.
Art Against Brutality by Claudia Bernardi [Argentina], founder of the Perquin Art School – Walls of Hope, which deals with art created by victims of state terror, armed conflicts and forced exile. Through the creation of murals, public art projects, urban interventions, the focus of the project is to give a voice to participants who survived political violence, to those who were forgotten or deliberately silenced.
Marchelo – Marko Šelić [Serbia] writer and musician who has published 6 studio albums and 6 books, including 4 novels. He is a regular columnist for the daily newspaper Danas and co-author of the regional television show Perspektiva, which deals with young people.
It is an international project of art and human rights, conflict resolution and memory preservation led by visual artist Claudia Bernardi [Argentina]. The result of painting on the wall of Silos, with women from Serbia, is a mural that will remain permanently in the public space of Belgrade.
Examples of feminist practices of connections, peaceful conflict resolution and cooperation of those who, according to the official narrative, belong to opposing groups. Featuring: Zana Hoxha [Kosovo]; Ana Miljanić, Ivana Milenović Popović, Dijana Milošević, Staša Zajović [Serbia].
The Country Where the Trees Fly, directed by Davide Barletti and Jacopo Quadri, shows the power of art in Odin Theatre's work with the community. The documentary Women's Shoulders Hold the World, directed by Maja Mitić [NOVA MREŽA Production] deals with issues of gender equality and sexism in everyday life and the media, through an interview with actress Mirjana Karanović. Kings & Queens is the photography exhibition by Léon Hendrickx and Micha Schneijderberg [ The Netherlands].

The theme "Standing Up for Others is Fighting for Ourselves" recognizes the necessity of solidarity in all times, and especially in times of great change, when society easily forgets or even actively oppresses its weakest members. Participants: Gedi Aniksdal [Norway]; Branislava Jovanović Izabela Kisić, Jelena Krstić, Maja Mitić [Serbia]; Olivera Simić [Bosnia and Herzegovina/Australia]; Karolina Spaić [Serbia/Netherlands]. Moderated by Dijana Mitrović.

UK PAROBROD, DORĆOL PLATZ, SILOSI, BELGRADE DANCE INSTITUTE, CENTER FOR CULTURAL DECONTAMINATION [CZKD], KOŠUTNJAK PARK, STUDENTSKI PARK, CULTURAL CENTER OF BELGRADE [KCB], KROKODIL CENTER, THEATRE "DUŠKO RADOVIĆ".

MURAL PAINTING – WALLS OF HOPE – CLAUDIA BERNARDI [ARGENTINA] AND PARTICIPANTS
19:00 CULTURAL CENTER PAROBROD
PERFORMANCE – THE CURTAIN THEORY BY IVANA MILENOVIĆ POPOVIĆ, DAH THEATRE AND BELGRADE DANCE INSTITUTE (SERBIA)
19:30 CULTURAL CENTER PAROBROD
EXHIBITION -KINGS & QUEENS – LÉON HENDRICKX AND MICHA SCHNEIJDERBERG [NETHERLANDS]
MARCHELO – MINI CONCERT

DJ ČASNA SESTRA [WARMING UP]
10:00 –12:00 BELGRADE DANCE INSTITUTE
WORKSHOP- THE AFRO-DIASPORIC BODY – BÁRBARA LUCI CARVALHO [BRAZIL/GERMANY]
11:00 –17:00 SILOSI MURAL
OVER THE LINE PROGRAM – WITH ZANA HOXHA [KOSOVO]; IVANA MILENOVIĆ POPOVIĆ, DIJANA MILOŠEVIĆ ; ANA MILJANIĆ; STAŠA ZAJOVIĆ [SERBIA]
20:00 THEATRE " DUŠKO RADOVIĆ"
CAMARÁ – ANTAGON THEATREAKTION [GERMANY]
11:00 – 17:00 SILOSI MURAL
14:00 – 17:00 CULTURAL CENTER PAROBROD
WORKSHOP – INTERSECTIONS: THEATRE AND HUMAN RIGHTS WITH JADRANKA ANĐELIĆ [SERBIA]
14:00 – 17:00 CULTURAL CENTER PAROBROD
WORKSHOP – MAKING A SOLO PERFORMANCE WITH KAROLINA SPAIĆ [SERBIA/NETHERLANDS]
15:00 – 17:00 CULTURAL CENTER PAROBROD [EVERY 15 MINUTES]
5 MINUTES IN AN AQUARIUM – ALISA ORAVEC, BELGRADE DANCE INSTITUTE [SERBIA]
ART AGAINST BRUTALITY – LECTURE BY CLAUDIA BERNARDI [ARGENTINA]
16:00 –19:00 KOŠUTNJAK PARK
SOLVITUR AMBULANDO – PERFORMANCE / GUIDED WALK BY GRENLAND FRITEATAR [NORWAY]
18:00 CULTURAL CENTER OF BELGRADE
I LOVE YOU – PERFORMANCE BY SNEŽANA GOLUBOVIĆ [SERBIA/GERMANY]
20:30 THEATRE "DUŠKO RADOVIĆ"
CORPUS MUNDI – PERFORMANCE BY ANTAGON THEATREAKTION (GERMANY)
MURAL PAINTING WALLS OF HOPE
10:00 – 13:00 CULTURAL CENTER PAROBROD
WORKSHOP – INTERSECTIONS: THEATRE AND HUMAN RIGHTS
14:00 – 17:00 CULTURAL CENTER PAROBROD
WORKSHOP – MAKING A SOLO PERFORMANCE
18:00 CULTURAL CENTER OF BELGRADE
I LOVE YOU – PERFORMANCE BY SNEŽANA GOLUBOVIĆ [SERBIA/GERMANY]
18:00 – 20:30 CULTURAL CENTER PAROBROD
FILM – THE COUNTRY WHERE THE TREES FLY; THE POWER OF ART IN WORKING WITH THE COMMUNITY – ONLINE CONVERSATION WITH EUGENIO BARBA AND JULIA VARLEY [DENMARK/ITALY]
GIRLS – PERFORMANCE BY REFLEKTOR THEATER [SERBIA]
11:00 – 17:00 SILOSI MURAL
11:00 –14:00 KOŠUTNJAK PARK
SOLVITUR AMBULANDO- PERFORMANCE/GUIDED WALK BY GRENLAND FRITEATAR [NORWAY]
15:00 – 17:00 CULTURAL CENTER PAROBROD
THE DOCUMENTARY FILM WOMEN'S SHOULDERS HOLD THE WORLD" [DIRECTED BY MAJA MITIĆ]

FORUM: STANDING UP FOR ANOTHER IS A FIGHT FOR OURSELVES – ARMINE AVETISYAN [ARMENIA/USA – ONLINE] GEDDY ANIKSDAL [NORWAY], BRANISLAVA JOVANOVIĆ, IZABELA KISIĆ, JELENA KRSTIĆ, MAJA MITIĆ, OLIVERA SIMIĆ [BOSNIA AND HERZEGOVINA/AUSTRALIA], KAROLINA SPAIĆ [SERBIA/NETHERLANDS]
MURAL REVEALING – CLAUDIA BERNARDI [ARGENTINE], STAŠA ZAJOVIĆ [SERBIA] AND PARTICIPANTS
DANCING TREES FILM AND FRAGMENTS FROM THE PERFORMANCE BY DAH THEATRE [SERBIA]